Season 1:
Edit
Episode 1
"Blood Price, Part 1"
March 11, 2007
PI Vicki Nelson witnesses a gruesome murder – except because of her

failing eyesight, she's not really sure what she saw. Her old police colleague, detective Mike Cellucci, warns her against getting involved. But when a young, heartbroken Goth begs Vicki to investigate her boyfriend's death, Vicki can't help but open up the strangest case of her life. Meanwhile, Henry Fitzroy, a concerned citizen of Toronto, also decides to look into the murders lest they be blamed on a vampire – himself for example.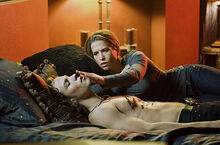 Ad blocker interference detected!
Wikia is a free-to-use site that makes money from advertising. We have a modified experience for viewers using ad blockers

Wikia is not accessible if you've made further modifications. Remove the custom ad blocker rule(s) and the page will load as expected.